Click the "Book Now" button to review all choices. Or, go to the About Us page to see our team, and make your instructor selection. Everything is included in the lesson fee; range time, all equipment, and instructor's time. You just need to show up! First time archers will be required to complete a waiver prior to the lesson. We look forward to seeing you to either start you on your archery path, or assist you in growing as an archer. Note: Lessons can be rescheduled or postponed with 24 hours notice, except for extenuating circumstances. Store credit is given for cancellations, which can be used for future lessons.
X10 Events
Coach Lynda LeCompte
Owner, Head Coach: USA Archery Level 4 NTS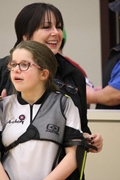 USA Archery Level 4 NTS Coach. Experienced in Olympic recurve, barebow and compound. Teaches from beginner through to the elite level archer, including archer's form, bow set up, training plans, and mental management. Competitive barebow shooter, with state and national titles.
Coach John Williams
Assistant Head Coach: USA Archery Level 4 NTS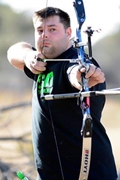 John, a USA Archery Level 4 NTS Coach, and Archery GB coach, has competed at County and National Level in the UK. He won the London Youth Games in 2008, and was Middlesex County Indoor Junior Champion for 3 years. Specializes in Olympic recurve and compound instruction and tuning, bow tech, fletching, and string building.
Eric Liu
Instructor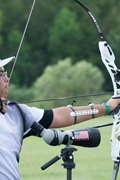 Eric is an Olympic Recurve archer and certified USA Archery Level 2 instructor, who will be glad to work with you to get you started on the right track in archery.
Coach Jennifer Schneider
USA Archery Level 3 NTS Coach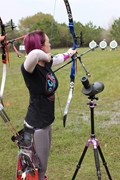 Jennifer began archery in 2013 . She represented the US at the Indoor World Championships in Ankara, as the highest-ranked member of the US Women's team. In 2017 she earned a Mixed Teams Bronze Medal, in Puerto Rico, and represented the US at the World Cup, where she was in the top spot on the Women's Recurve team. Jennifer's coaching philosophy is about the enjoyment of archery and helping students achieve their goals. She believes that archery is a lifelong sport that everyone should try.
Tam Nguyen
USA Archery Level 3 Coach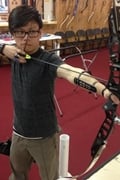 USA Archery Level 3 Coach
IV Gonzalez
USA Archery Level 2 Instructor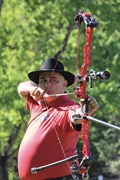 USA Archery Level 2 Instructor. Nieve Gonzalez, who is known as IV, can teach compound archery to beginners and up to intermediate level.
An Nguyen
USA Archery Level 2 Instructor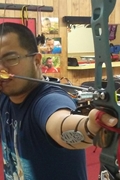 An is a competitive barebow archer, who has quickly mastered technique, tuning, and much of what you need to know about shooting barebow archery. An will provide a great foundation for anyone starting out or wanting to improve their archery game.
Russell
USA Archery Level 2 Instructor
9701 Honeywell St., Houston
281.888.5900
Tuesday

Wednesday

Thursday

Friday

Saturday

Sunday

10:00am - 8:00pm

10:00am - 8:00pm

10:00am - 8:00pm

10:00am - 8:00pm

12:00pm - 6:00pm

12:00am - 6:00pm